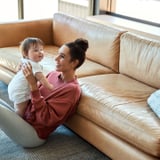 For those of you who have been following me for a while on social media, you might know fitness has always been such a big part of my life. After giving birth to my beautiful daughter Arna in April last year, I realised how much strength and fitness I had lost through my pregnancy. I have learnt so much over the last 10 months, and now more than ever I feel a strong sense of responsibility to share what I've learnt to help other women on their post-pregnancy journey.
Truth be told, my pregnancy and post-birth recovery were tough. When I got clearance from my doctor to return to light physical exercise six weeks post-birth, I walked into the gym and honestly felt so lost. In that moment I truly understood the fear, anxiety and frustration so many women feel stepping back into the gym after having a baby. This is one of the reasons why I created my Post-Pregnancy and BBG Beginner programs, to help support them with tools to rebuild their physical strength after having a baby or who are beginning to exercise.
Trying to navigate through life as a new mum was also challenging. It really takes time to find the right balance between juggling the needs of your baby, family, work and finding time for your own selfcare. And for me, getting back into a regular gym routine too!
These are the things I wish I knew before having Arna, which I hope will help more women through this time of their lives . . .
Baby fads, just like fitness fads, can take over your life if you let them.
I thought I would need so many things that when looking back I just didn't use. In reality, you only need the basics to take care of a baby – suitable clothes, a cot, change table and plenty of nappies.This is the same for fitness. You don't need all the 'frills' to get the results you want. You just need to do the basics right and be consistent. Train a few times a week and eat a wholesome, balanced diet. By taking a realistic approach to health and fitness, you will be able to create sustainable practices for your whole life.
Mum guilt is a real thing.
For me I found it hard not to listen to all the different opinions and people's advice. You are constantly second guessing yourself, like whether worrying that you've fed your baby enough to feeling like a bad mum if you go to the gym. All this puts so much extra pressure on women, which you just don't need in those first few months when you're just trying to figure out the basics. It took me some time, but I eventually learnt to listen to my gut instinct and trust in my own abilities. When it comes to fitness guilt, I can't tell you how many times I've heard from women how guilty they feel for not working out. I know it can be hard sometimes to find the motivation to get up early to workout or head to the gym after work. The best way to combat workout guilt is to set fitness goals and then strive to achieve these goals. Setting goals gives you a clear focus, a way to measure progress and helps you maintain motivation. And don't forget to celebrate the wins along the way!
Society puts a lot of pressure on new mothers to physically 'bounce-back'.
No woman can simply 'bounce back after having a baby'. The reality is that you will never have the same body you had before giving birth. And that's OK. Your body will be stronger and more resilient – trust me. The biggest thing I learnt through this process was to forget about 'bouncing back', and focus rather on just showing up for yourself. Do as much or as little as you can, because even a couple minutes of exercise gets you closer to where you want to be. Don't get me wrong, those first few weeks back in the gym were hard for me. I felt physically weak, there were days where I lacked motivation, but no matter how I was feeling I would show up for myself. I did the best I could each workout session, took it slowly, listened to my body and modified exercises when needed.
There's no secret recipe to how I rebuilt my strength and fitness post-pregnancy. I set myself achievable goals and showed up for myself because the way you really get results is through consistency. I also pushed through the hard times with a mindset that I was doing this to be the strongest, most confident version of myself for my daughter.
Motherhood is the best thing that's ever happened to me. I get so much joy from watching Arna grow and develop – seeing her crawl for the first time, saying her first words. Our connection gets stronger each day, and for this I am grateful. But looking back, my post-birth experience was far more challenging than what I thought it would be. Ten months on I feel stronger, more determined and confident than ever. For me, pregnancy has given me not only a deep appreciation for my body and what it is capable of, but also for all the amazing BBG mums who continue to motivate and inspire me every day.
Original source: https://www.popsugar.com.au/fitness/kayla-itsines-on-her-post-baby-body-mum-guilt-47267997